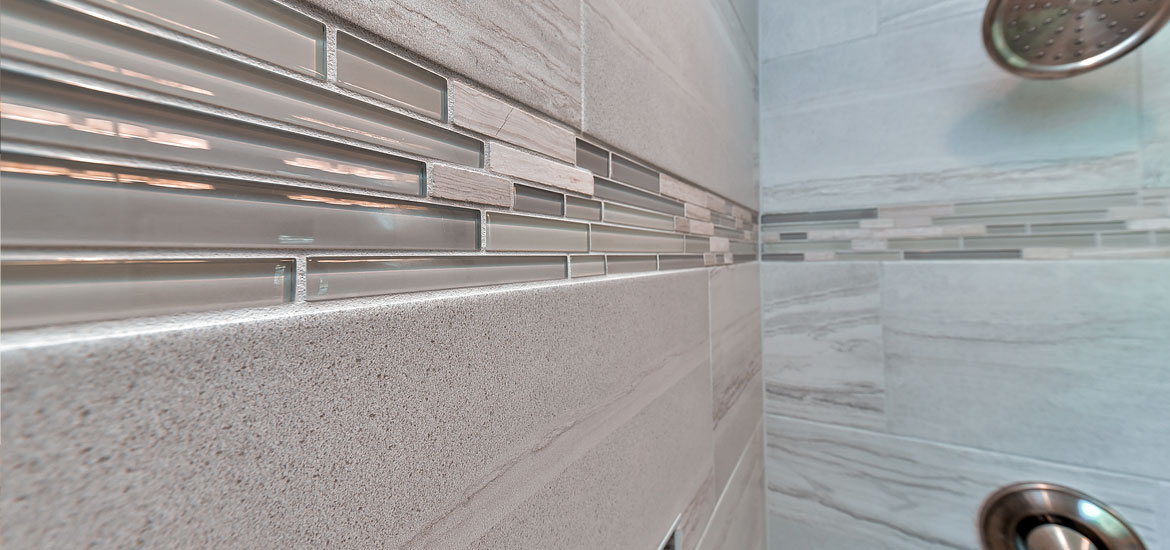 A look at the 2018 trends in bathroom design reveals the growing interest in a bathroom that is functional, comfortable and environmentally friendly. While for a long time the bathroom had only a utilitarian role, the needs related to this room  evolved. Today, more than a functional bathroom, we want a bathroom that invites relaxation. To give you some ideas, we  offer you a preview of the perfect bathroom in 2018, in every detail.
1. Built-in furniture
Modern Bathroom by RAB ARREDO BAGNO A wall-mounted bathroom cabinet adds a touch of design while being protected from puddles. The solution in this example,  perfectly integrated into the room, offers enough storage while having a minimalist style. The neon itself in the furniture is an original idea for a modern lighting of his bathroom.
2. The water resistant vinyl wallpaper
Modern Bathroom by Valentina Farassino Architetto A beautiful wallpaper will give an unexpected touch to your bathroom. In this bathroom, an entire wall was covered with a trompe-l'œil wallpaper, bringing a touch of nature into the room. It is of  course essential to choose a water-resistant  wallpaper that will not be damaged by the slightest drop of water. Village House: Modern Houses by Lautrefabrique  Need help for your house project? Contact us! GET FREE HELP
3. The enamelled tiles in the bathroom
Retro-chic bathrooms will also be one of the trends of 2018. The enamelled tiles, whatever their color and finish, combine perfectly with modern bathtubs, showers or washbasins, creating a modern bathroom. relieved of a retro touch.
4. Vintage furniture
There is nothing better than vintage furniture to give style to a bathroom. In this example, in addition to the old- fashioned washbasin, the visible piping, the color of the walls and the woodwork contribute to the vintage style of this bathroom.
5. Small niches for objects
If you are one of those who have to settle for a small bathroom, this solution will no doubt please you. The niches will be everywhere in 2018. In addition to bringing a chic touch to your bathroom, they can create storage spaces, especially inside the shower. You will no longer need these wobbly and unattractive shower shelves.
6. The marble elements
ROSELIND WILSON DESIGN Marble never goes out of fashion. Whether in a bathroom with the latest trends or a bathroom decorated in a classic style, this material is ideal for shelves as for the floor or walls. Also, the advantage of marble is that it combines easily with other materials such as wood and metal.
PREMIUM -Experts
ABADIE ARCHITECT
architects
FOUSSERET
ABADIE ARCHITECT
RENOVATION EXTENSION ARCHITECT J: Industrial style houses by ABADIE ARCHITECT
SOLUBAT.SAS
architects
Orleans
Solubat.sas
ARCHICONFORT
architects
Geneva
Archiconfort
Wooden House: Modern Houses by Archiconfort
7. A frameless shower
It has been some time since showers without bins and placed on the floor are in vogue. The frameless showers are now adding to the trend.The minimalism of these showers gives them an innovative and modern style, while guaranteeing a homogeneous layout of the bathroom. To maintain this atmosphere, it is important to create a harmony: each object and each piece of furniture in the bathroom must be as minimalist as possible.
8. The bathroom turns into a living room
Those for whom bathroom rhymes with well-being and pampering sessions will be delighted by this type of bathroom. The use of  beautiful materials and well-chosen furniture helps to soothe the spirit. These are the little details, such as the retro  tiles, the freestanding bathtub, the parquet floor and the copper elements that give all its charm to this bathroom, in which we want to stay.
8 trends for bathrooms in 2018